Hotel & Lounge Lago Maggiore
16.11.2020
The Hotelcard team is doing everything to offer you even more
fantastic destinations and local hotels at discovery prices.
We are very pleased to be able to introduce a special new addition to our team today. Discover the new
4* Hotel & Lounge Lago Maggiore
with its exclusive location directly on the lake promenade Locarno-Muralto. Let yourself be enchanted by the southern flair of Ticino, which also has a special charm in autumn and winter.
Hotel & Lounge Lago Maggiore ****
The
Hotel & Lounge Lago Maggiore
is a new hotel star on Lake Maggiore. The hotel is located directly on the lake promenade of Locarno-Muralto.
Under the
slogan "Active Lifestyle"
, the hotel is particularly aimed at sporty guests who appreciate modern design combined with a cultivated service and relaxed atmosphere.
Warm natural colours and great attention to detail
create a cosy atmosphere throughout the hotel. After an active day in nature, a fire in the fireplace invites you to relax in the evening. A good glass of Ticino wine, a refreshing cocktail or a warming tea from the bar goes well with it.
Feel-good room with view
Thanks to hypoallergenic and soundproofed rooms, nothing stands in the way of a restful sleep here. The rooms are also decorated in pleasant natural tones.
Fantastic views of Lake Maggiore
sweeten your wake-up. A Nespresso coffee machine in the room ensures the perfect start to the day.
Offers for sports activities
Guests of the Hotel can use the hotel's own
bicycles free of charge
. Professional sports coaches for various sports disciplines are organised for guests on request. The spacious
Technogym fitness studio
rounds off the sports facilities perfectly.
Active connoisseurs will love this hotel! Even if you theoretically want to spend the whole day in this stylish hotel, it would be too bad to leave the
beautiful surroundings
to one side. We have put together a few tips for you in and around Locarno.
Exclusive offer for Hotelcard members
The Hotel & Lounge Lago Maggiore offers you:
3 nights package
with up to 50% discount (for the period from Sunday to Thursday a 50% discount applies / for Friday and Saturday a 30% discount applies) Free entry to the Salini thermal baths per person worth CHF 40 p.p. (valid once per stay) Ticino ticket free of charge This offer is valid from
10.11.20-22.12.20 and from 3.1.21-9.1.21
, subject to availability.
Great views from Cardada and Cimetta
Whether on foot, with snowshoes, or with the cable car designed by Mario Botta: an
excursion to Cardada and Cimetta
is also worthwhile in autumn and winter. A breathtaking panorama opens up from the summit. In good weather, from here you can see the lowest point in Switzerland, Lake Maggiore, and the highest point in Switzerland, the Dufour Peak in the Monte Rosa massif. Hikers get their money's worth here.
© Ticino Turismo / Christof Sonderegger
Autumnal Verzasca Valley
Where the tourist masses crowd in summer, peace and quiet returns in autumn and winter. Even the
Ponte dei Salti in Lavertezzo
can be enjoyed alone at this time of year, with a little luck. The last yellow autumn leaves form a unique play of colours with the emerald green waters of the Verzasca, and sometimes the snow even sugars the landscape. The
Verzasca Valley
is just waiting to be explored.
© Ascona-Locarno Tourism / Alessio Pizzicannella
A touch of Italianità and lots of pleasure in Locarno
Locarno is a place for connoisseurs
. Even in winter it is fun to enjoy a café or an aperitivo in the Piazza Grande. By the way, the best gelati are available at the Gelateria Vera Muralto. It tastes so good that even at low temperatures you don't want to miss it. The Gelateria is also less than five minutes' walk from the Hotel & Lounge Lago Maggiore.
A real insider tip for connoisseurs is the
Ristorante Bottega del Vino
in Locarno. In a former pharmacy, guests are now pampered with culinary delicacies.
© Ascona-Locarno Tourism / Alessio Pizzicannella
Pre-Christmas Lake Maggiore
Even if this year, unfortunately, most of the Christmas markets have been cancelled, the glitter of lights on Lake Maggiore will still create a festive atmosphere.
During the Christmas season, many
Ticino villages display artistic nativity scenes
. From 13 December to Epiphany Day on 6 January, if everything goes according to plan, more than thirty nativity scenes will create a very special Christmas atmosphere in the village of Vira Gambarogno. In the tranquil village of Moghegno in the Maggia Valley, a Nativity Trail invites visitors to stroll through the Christmassy village.
Vira © Cristiana Ferrari-Rianda
Snowshoeing in Valle Rovana
When the first snow wraps the landscape in a wintery dress, the hour of the
snowshoe hikers strikes
. A brand new snowshoe trail leads through the snow-covered landscape of Valle Rovana, a side valley of the Maggia Valley. From the village of Campo Vallemaggia, situated at 1,290 metres above sea level, the trail leads via Cavà, the Corte Nuovo and back to the starting point. The circular walk takes about 2 hours. The Valle Rovana impresses with its largely untouched nature. It is the ideal place to take a deep breath and recharge your batteries for everyday life.
© Masterplan Alta Vallemaggia
Whether you are looking for
pleasure or sporting challenges
or both, the region around Lake Maggiore will inspire you. Thanks to your Hotelcard you can benefit from
exclusive discounts
. Recharge your batteries for the dark time of the year and enjoy late autumn or winter in the sunny lounge of Switzerland.
Become a member now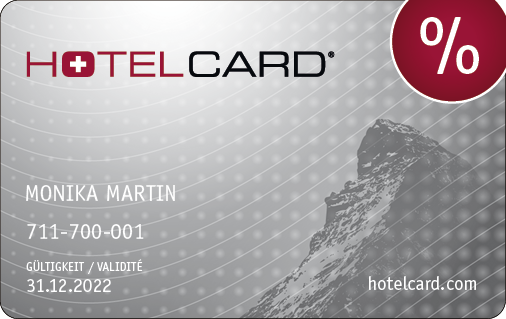 Hotelcard has been promoting the Swiss hotel industry for 10 years: While participating partner hotels increase their occupancy rates during off-peak periods, Hotelcard members benefit from exclusive rates. Simple and original, a win-win model for everyone.
What our members say
Discover new places far away from mass tourism
"Since I own a Hotelcard, we go on excursions much more often again and treat ourselves to the small luxury of an overnight stay in a hotel. Switzerland has so many exciting corners and with Hotelcard, we are always discovering new destinations far away from mass tourism."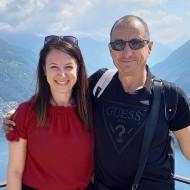 Sandra & Giuseppe
star_rate
star_rate
star_rate
star_rate
star_rate
A great thing for hotels
"As a hotelier, I appreciate the model. Unlike other booking portals, Hotelcard does not take commission on bookings. Hotelcard members are welcome guests at our hotel and are a real asset, especially in the low season"
Martin
star_rate
star_rate
star_rate
star_rate
star_rate
Share your best Hotelcard moments with us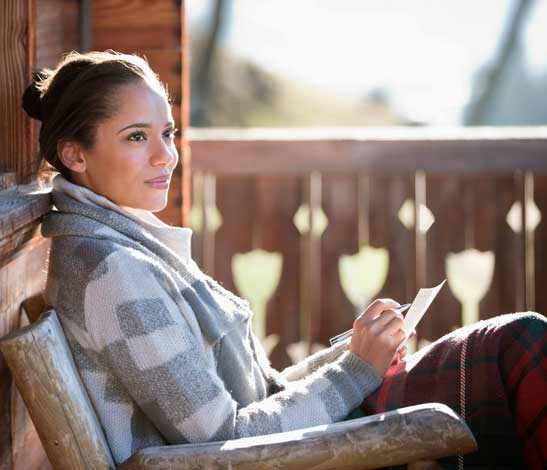 Share your experiences with our Hotelcard community so that other members can benefit from your travel stories and experiences with Hotelcard. Simply tag your posts on Instagram with hashtags #myhotelcard. We look forward to your contributions!