Behind the scenes at Hotelcard
01.10.2020
Our ultimate goal is that you, as a Hotelcard member,
always save on hotel reservations
and therefore always have a reason to travel and experience something. Whether it's a hike, a city trip or simply relaxation. We give everything for that.
Interview with our Head of Hotel Cooperations
Today we offer you a small look behind the scenes. Get to know
Stefan Sächerl
, our Head of Hotel Cooperations. Stefan worked for many years as
Hotel Director
and in
Hotel Consulting
. Since May this year he has been part of Hotelcard and sees his role as a link between the partner hotels and our members.
Stefan Sächerl Head of Hotel Cooperation
Stefan, what was your biggest motivation to join Hotelcard?
Hotelcard offered me the chance to
contribute all my experience and creativity
to an up-and-coming company. The company has a
highly motivated and likeable team
and everyone pulls together.
Why do partner hotels offer our members up to 50% discount?
In fact, there is no other distribution channel where hotels offer such high discounts as with Hotelcard. This is primarily because their rates are only available to paying Hotelcard members and we do
not charge them any commissions or fees
. Furthermore, our model is appealing to the hotels and they prefer to give discounts to our members rather than commissions to international booking platforms.
How are the Hotelcard partner hotels doing today with Covid-19?
Some hotels - especially in the
mountain regions
- have achieved
incredible sales
this summer and have always had a full house. Accordingly, the availability of Hotelcard was partly limited during the summer holidays. The situation was different for
city hotels
. These are
suffering enormously from the crisis
and are happy about every booking.
Hotelcard changed its discount model in May. How has this been received by the hotels?
The hotels have responded very well to the adjustment. The possibility of offering rooms with 30% or 10% discount means that they will provide Hotelcard rooms on many more days. Our aim is that they will
always provide availability as long as they are not fully booked
.
How did the members react?
Bookings have not decreased, on the contrary. Our members have noticed that a 30% discount does not mean a smaller saving in Swiss Francs than the 50% that used to be 50%. The reason for this is that the hotels have been instructed to base their base prices on the daily rates and not on the list prices as in the past. Today, hotel pricing is extremely dynamic and 30% discount on dynamic prices is an enormous saving.
In the case of 5* hotels, this quickly adds up to 200 Swiss Francs per night.
What improvements are planned for the near future?
We are currently in the process of automatically connecting our hotels to our booking system. This will ensure that prices and availability are constantly updated, the
price promise is always kept and bookings are confirmed immediately
. Already today about 25 hotels are connected and more are added every week. I think this is a
real milestone
for our members.
Can our members count on many new hotels?
Absolutely. After all the changes, we are again an exciting partner for hotels. In the next few weeks some
real pearls will be added to Hotelcard.ch, for example in Zermatt, St. Moritz or Ascona
. About a dozen new hotels on Lake Geneva have just gone live.
Many thanks Stefan for the interview and good luck!
We are pleased to present a selection of the new hotels on Lake Geneva mentioned by Stefan Sächerl:
Hotel Continental, Lausanne
The
Hotel Continental
is located
in the heart of the city
. The famous sights of Lausanne, the old town and the lake are only a few minutes' walk away. The 4* city hotel with its spacious and comfortable rooms is the ideal place to
relax and discover the city.
Hôtel de la Paix, Lausanne
Enjoy the
magnificent view
of Lake Geneva and the Alps! The 4*
Hôtel de la Paix
impresses with its central location, personal service and tastefully renovated rooms.
Also on the beautiful Lake Geneva, but in Geneva, are two more of our new additions:
Hotel Royal, Geneva
The 4*
Hotel Royal
impresses with a luxurious, classic style. Comfortable rooms and
attentive service ensure moments of well-being
. The lake and the popular nightlife districts of Geneva are only a stone's throw away.
Fairmont Grand Hotel, Geneva
Spoiled guests will find the 5*
Fairmont Grand Hotel
in Geneva a modern and elegant hotel that meets the highest standards. "
An oasis in the heart of the city
", which offers three gourmet restaurants, fine boutiques, a spa and fitness centre, as well as the
largest indoor pool in Geneva
.
We are proud that we can now offer you
more than 550 partner hotels
. From down-to-earth and charming to luxurious and elegant, we have the right hotel for every taste.
Thanks to the
tireless efforts of Stefan Sächerl and the entire Hotelcard team
, we are able to continually expand our range of services for you. Thanks to your Hotelcard you can find f
antastic destinations at discovery prices!
You can bet that there is a new favourite hotel for you at
www.hotelcard.com
!
Become a member now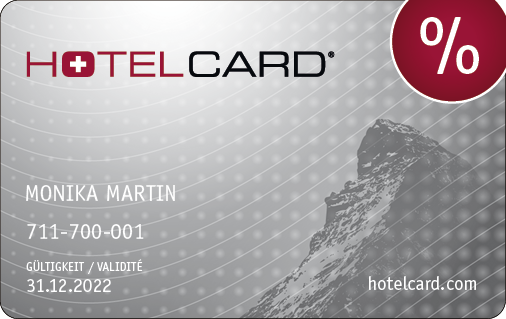 Hotelcard has been promoting the Swiss hotel industry for 10 years: While participating partner hotels increase their occupancy rates during off-peak periods, Hotelcard members benefit from exclusive rates. Simple and original, a win-win model for everyone.
What our members say
Discover new places far away from mass tourism
"Since I own a Hotelcard, we go on excursions much more often again and treat ourselves to the small luxury of an overnight stay in a hotel. Switzerland has so many exciting corners and with Hotelcard, we are always discovering new destinations far away from mass tourism."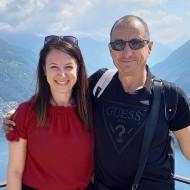 Sandra & Giuseppe
star_rate
star_rate
star_rate
star_rate
star_rate
A great thing for hotels
"As a hotelier, I appreciate the model. Unlike other booking portals, Hotelcard does not take commission on bookings. Hotelcard members are welcome guests at our hotel and are a real asset, especially in the low season"
Martin
star_rate
star_rate
star_rate
star_rate
star_rate
Share your best Hotelcard moments with us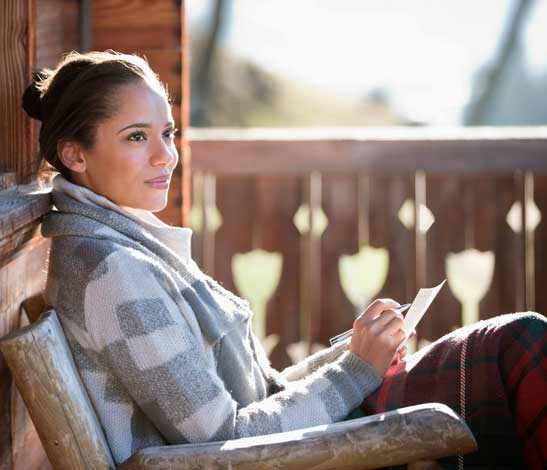 Share your experiences with our Hotelcard community so that other members can benefit from your travel stories and experiences with Hotelcard. Simply tag your posts on Instagram with hashtags #myhotelcard. We look forward to your contributions!