Let's go Lausanne
22.04.2021
Are you longing for the sea and Mediterranean flair? Then Lausanne will inspire you! Admittedly, Lake Geneva is not the Mediterranean, but it makes up for it with a spectacular Alpine panorama.
Discover the charming capital of Vaud
. We'll show you why a trip to Lausanne will delight you. Check into one of our attractive partner hotels, let Lausanne enchant you and save up to 50% on the regular hotel price.
These five highlights have particularly enchanted us:
1. Cité – The medieval old town with the Gothic cathedral
Consecrated in 1275, the Gothic cathedral of Notre Dame
in the old town of Lausanne is one of the most beautiful Gothic buildings in Switzerland. From here, there is a wonderful view of the city nestling on the steep shore of Lake Geneva, which merges into the vineyards of Lavaux beyond the city limits. The difference in altitude in the city area is about 500 metres. Thanks to the metro, however, this is easy to overcome.
From the cathedral, the market steps lead down into the medieval alleys with pretty shops. Every Wednesday and Saturday, there is a
street market in the old town
where traders sell their delicacies.
© Lausanne Tourisme / www.diapo.ch
2. Quartier Flon – Between modernity and tradition
In the
former industrial quarter, renovated, historic industrial buildings meet modern new buildings
and together form an exciting overall picture. A place that invites you to stroll. In the hip district, design, art and architecture meet boutiques and gastronomic diversity, which can currently also be enjoyed as takeaways, at least in part.
Our tip:
just above the Quartier Flon, at Rue de la Mercerie 14, is the Atelier les Gourmands. Here, delicious cakes, sandwiches and breads are offered in a nostalgic ambience.
© Lausanne Tourisme / www.sebastienstaub.ch
3. Ouchy – Mediterranean Feeling on the shores of Lake Geneva
The flower-lined lakeside promenade in the Ouchy district is the perfect place to gaze out over the waters of Lake Geneva and enjoy the moment. Three magnificent gardens line the shore here. As the masts and lines of the sailing boats gently rustle in the wind,
you could almost think you were on the Mediterranean
- if it weren't for the magnificent Alpine panorama in the distance. If you fancy a boat trip, you can set sail right at the end of Dapples Garten, at the CGN landing stage.
© Lausanne Tourisme / www.diapo.ch
4. Lavaux – UNESCO World Heritage Site
The
vine terraces of Lavaux
not only make the hearts of wine lovers beat faster. This man-made cultural landscape is uniquely beautiful. As early as the 12th century, Cistercian monks began to painstakingly build the stone walls and terraces by hand. This is how they have nestled against the lakeshore for centuries. This is a sight not to be missed!
We recommend a walk or even a
hike in the vineyards
with a view of Lausanne and the lake. Chasselas, Pinot Noir, Sauvignon Blanc and other varieties of wine are grown here and can also be tasted on site.
Our tip:
the open Vaud wine cellar à la carte. Discover individually and Corona compliant a tasting with a winegrower of your choice.
© Lausanne Tourisme / Urs Achermann
5. Museums for every taste
Don't miss a
visit to the city's many museums
. There is something for everyone. Art lovers should not miss the new Plateforme 10 art district. Things are still under construction here, but the Cantonal Art Museum is already located in this new complex.
In the
AQUATIS Aquarium-Vivarium Lausanne
, visitors experience a fascinating journey into the habitats of our earth's rivers and lakes.
For more than a hundred years, the Olympic capital Lausanne has been home to the International Olympic Committee (IOC). Of course, the topic of sport cannot be missing. The
Olympic Museum
promises an entertaining journey into the world of the Olympic Games. In addition to lots of exciting information, there is also plenty of fun to be had. Thanks to the latest computer technology, you can virtually slip into the skin of an athlete - and who knows, maybe even win Olympic gold in the process....
AQUATIS - Aquarium-Vivarium Lausanne
With or without sporting feats, Lausanne is sure to enchant you too. We are sure that you will find many more reasons why Lausanne is worth a visit.
Go on a voyage of discovery!
Our hotel tips for your stay in Lausanne
3* Swiss Wine by Fassbind
The modern
3* Hotel Swiss Wine by Fassbind
is completely dedicated to the enjoyment of wine. This is reflected both in the tasteful interior design and in the
wine boutique with selected Swiss wines
. The hotel is very centrally located. Soundproof windows and doors ensure a well-deserved night's rest after an eventful day in Lausanne. Enjoy this hotel as a Hotelcard holder currently with a 30% discount.
4* Agora Swiss Night by Fassbind
The
4* Hotel Agora Swiss Night by Fassbind
is located in a quiet yet centrally located residential area. The lake is just a few minutes' walk away and the train station is only a stone's throw away. The hotel
combines Swiss Alpine chic with the luxury of a 4* hotel
. Thanks to your hotel card, you can currently save 30% on the regular hotel price.
Hotel ibis Lausanne Centre
The
2* Hotel ibis Lausanne Centre
offers everything you need for an
uncomplicated city break
. Modern, brightly furnished rooms and friendly staff characterise this hotel. The most important sights of the city are also within easy walking distance of the hotel. Take advantage of your hotel card and enjoy Lausanne at a very special rate.
Discover the city "with a difference".
Lausanne in spring is irresistible!
Become a member now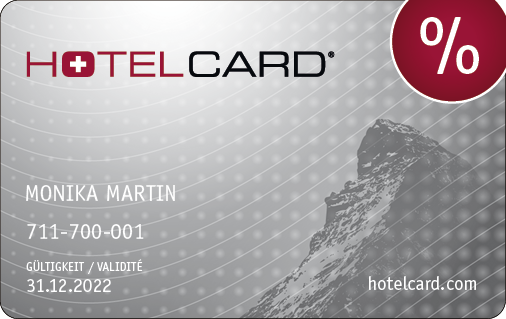 Hotelcard has been promoting the Swiss hotel industry for 10 years: While participating partner hotels increase their occupancy rates during off-peak periods, Hotelcard members benefit from exclusive rates. Simple and original, a win-win model for everyone.
What our members say
Discover new places far away from mass tourism
"Since I own a Hotelcard, we go on excursions much more often again and treat ourselves to the small luxury of an overnight stay in a hotel. Switzerland has so many exciting corners and with Hotelcard, we are always discovering new destinations far away from mass tourism."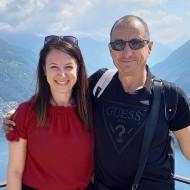 Sandra & Giuseppe
star_rate
star_rate
star_rate
star_rate
star_rate
A great thing for hotels
"As a hotelier, I appreciate the model. Unlike other booking portals, Hotelcard does not take commission on bookings. Hotelcard members are welcome guests at our hotel and are a real asset, especially in the low season"
Martin
star_rate
star_rate
star_rate
star_rate
star_rate
Share your best Hotelcard moments with us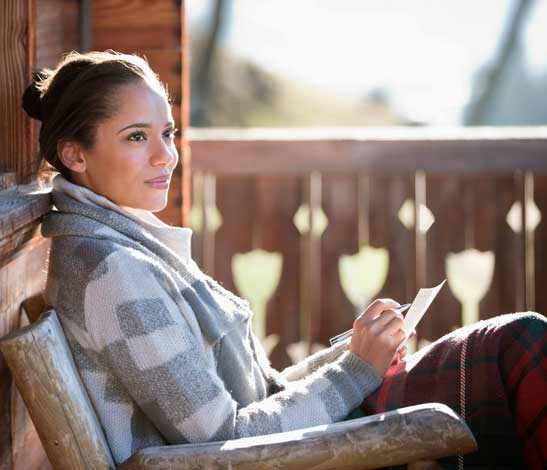 Share your experiences with our Hotelcard community so that other members can benefit from your travel stories and experiences with Hotelcard. Simply tag your posts on Instagram with hashtags #myhotelcard. We look forward to your contributions!