A city trip to Lucerne
03.09.2020
Simply
get out of everyday life
, experience something new, or rediscover the familiar. This brings variety into life and refreshes the soul.
How about a
short trip to Lucerne
, for example? The city has never been so relaxed as this year.
Walk in the footsteps of history, discover exciting works of art, be enchanted by breathtaking views, immerse yourself in the world of engines and enjoy a romantic dinner on an evening cruise on Lake Lucerne.
In Lucerne, everyone is guaranteed to get their money's worth
.
Use your
Hotelcard.
Bring some variety into your life with a
saving of up to 50%
on overnight stays. We have put together a few tips for a varied city break for you.
The symbol
Everyone knows it, and yet it is always a special experience to stroll across the
Chapel Bridge, the symbol of the city of Lucerne.
Did you know that the Chapel Bridge with its famous picture cycle is the second longest covered wooden bridge in Europe?
© Lucerne Tourism
Great views
The "Zeitturm" (Cytturm), whose construction dates back to 1406, was formerly part of Lucerne's city fortifications. Today its interior houses a collection of old clockworks. Anyone who has managed to climb the 138 steps to the top is rewarded with a
breathtaking view of the city
and the surrounding countryside.
© Luzern Tourismus / Laila Bosco
Lucerne for art lovers
You like art? Then do not miss out on a visit to the Museum of Art Lucerne KKL! In addition to the
world-famous concert hall
, the modern building on the lake also houses exciting art exhibitions and world-famous exhibits. A treat for every art lover!
© Switzerland Tourism
The world of hot engines
Or do you prefer hot engines? The Swiss Museum of Transport with its large collection of
cars, ships, aircraft and other vehicles of all kinds
enchant not only families with children. Adults can also be fascinated by the themes of communication and transport. It is not for nothing that the
Swiss Museum of Transport is the most popular museum
in Switzerland.
© Swiss Museum of Transport
End the day in a romantic way
End an eventful day with a
candlelight dinner on Lake Lucerne
. While the setting sunbathes the landscape in a warm light, you can enjoy a fine aperitif and a 3-course menu on the historic steamboat. It could hardly be more romantic!
© Jan Geerk
Our special hotel tips for our members:

Grand Hotel National
One of our top 20 hotels is the luxury Grand Hotel National in Lucerne. Centrally located on the shore of Lake Lucerne, the
5* Grand Hotel National
spoils its guests with
exclusive service and comfort.
The Grand Hotel National is a hotel with style and history that leaves nothing to be desired, even for the most pampered guests. A fine selection of restaurants and bars offer the right culinary experience for every taste.
Hotel Seeburg Lucerne
The
oldest hotel on the lake
welcomes its guests with a cosy atmosphere and great hospitality. The rooms offer a fantastic view of Lake Lucerne and the city of Lucerne. The well-stocked wine cellar and the cultivated gastronomy also ensure that connoisseurs are in good hands here.
Whether you love historical buildings, inspiring art, hot engines or romantic hours,
there is something for everyone
in Lucerne.
Book your stay in Lucerne now. Thanks to your
Hotelcard you can save up to 50% of the regular price.
Experience the relaxed and refreshing city of Lucerne at exclusive discovery prices.
Become a member now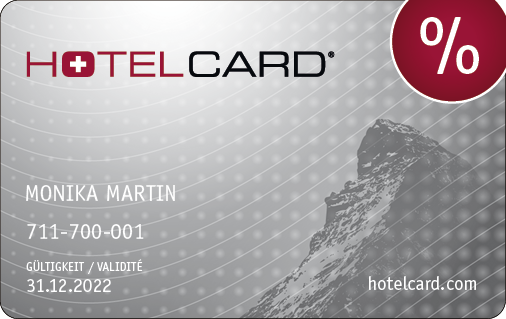 Hotelcard has been promoting the Swiss hotel industry for 10 years: While participating partner hotels increase their occupancy rates during off-peak periods, Hotelcard members benefit from exclusive rates. Simple and original, a win-win model for everyone.
What our members say
Discover new places far away from mass tourism
"Since I own a Hotelcard, we go on excursions much more often again and treat ourselves to the small luxury of an overnight stay in a hotel. Switzerland has so many exciting corners and with Hotelcard, we are always discovering new destinations far away from mass tourism."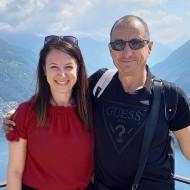 Sandra & Giuseppe
star_rate
star_rate
star_rate
star_rate
star_rate
A great thing for hotels
"As a hotelier, I appreciate the model. Unlike other booking portals, Hotelcard does not take commission on bookings. Hotelcard members are welcome guests at our hotel and are a real asset, especially in the low season"
Martin
star_rate
star_rate
star_rate
star_rate
star_rate
Share your best Hotelcard moments with us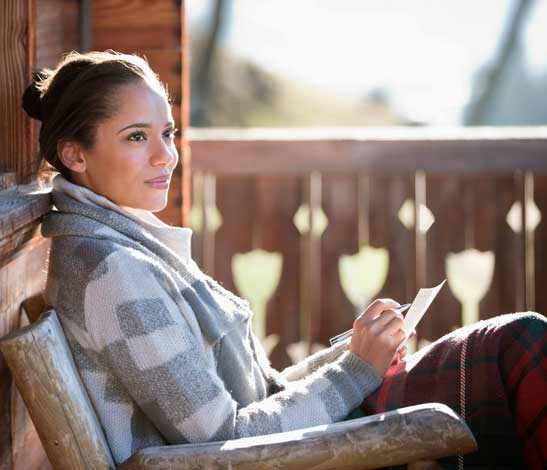 Share your experiences with our Hotelcard community so that other members can benefit from your travel stories and experiences with Hotelcard. Simply tag your posts on Instagram with hashtags #myhotelcard. We look forward to your contributions!