Three new jewels at Hotelcard
26.02.2021
You just want to relax for a few days, take a deep breath and leave the problems of everyday life behind you? We have just the thing for you. We are pleased to present our three new bijoux to you today! From small and fine to luxurious and sophisticated –
there is a favourite hotel for every taste
. Discover our new additions – and benefit from the Hotelcard discovery rates with a reduction of up to 50% on the regular hotel price.
Swiss Luxury Apartments, Geneva
In the
5* Swiss Luxury Apartments
you enjoy all the advantages of a serviced flat. The
elegant and fully equipped flats
have all the amenities that the pampered city or business traveller could wish for. Even a wine fridge has been thought of.
A concierge service is available 24/7 for any request. A private chef will come on request to prepare a delicious dinner for you, unless you prefer a massage in your flat. The Housekeeping team cleans your flat daily and takes care of your laundry free of charge.
Enjoy maximum privacy with top-notch service.
Geneva: innovative and cosy
Did you know that the philosopher Jean Jaques Rousseau was born in Geneva, that the World Wide Web originated in Geneva and that the first Swiss wristwatch was created in Geneva?
Geneva has a lot to offer! The
beautiful location on the lake and the charming old town
wrap every visitor around its finger. If you've had enough of the hustle and bustle of the city, you'll find a small square called "Promenade de la Treille" on the hill to the south of the old town. Here you will find one of the longest wooden benches in the world, built in 1767 from 180 wooden planks. Enjoy the spectacular view of Mont Salève.
© Genève Tourisme
Hotel Roggen, Erschmatt in Valais
View the breathtaking panorama of the Valais mountains from the cosy rooms of the
Hotel Roggen
in Erschmatt. The
rooms are furnished in a modern, alpine style
. The Rye is at the centre of the small, hearty hotel. It also plays a central role in the associated restaurant and in the bakery.
Did you know that this type of grain was an essential part of the alpine cultural landscape? Its high content of fibre, minerals and essential vitamins make it a real superfood. In Erschmatt, the
alpine tradition of rye cultivation and processing is revived
, also to the culinary delight of guests. In the rye bakery, rye bread is produced in organic bud quality according to the original Erschmatt recipe.
The Valais: A hotspot for connoisseurs
Valais is a region for connoisseurs who are looking for something special.
After active days in the mountains, numerous unique delicacies are waiting to be discovered. Switzerland's largest wine region shines not only with full-bodied wines, sweet apricots and delicious raclette cheese, but also with many other unexpected culinary treasures. Did you know that saffron is grown in Valais?
Either way, the Valais with its breathtaking mountains is always worth discovering! You still haven't acquired a taste for it? Then we recommend that you first discover the Valais virtually in an "
Online Escape Game
"
.
We bet you'll want to set off straight away afterwards!
Verena's Bed and Breakfast, Sachseln
Verena's Bed & Breakfast
is located almost in the geographical centre of Switzerland. A charming, wonderfully maintained bijou awaits you, where uncomplicated guests feel completely at home. The hostess, Mrs. Eisele, takes touching care of their well-being. The rooms in the stately house offer a
view of Lake Sarnen and the Obwalden mountains
. They are cosily furnished and equipped with high-quality, comfortable beds. Guests in the total of 6 rooms share two spacious bathrooms and two separate guest WCs.
Enjoy a few relaxing days, almost like in a hotel - only much more private!
Sachseln and the centre of Switzerland
Where the mystic and Swiss national saint Nicholas of the Flüe once lived, you will still find one of the most beautiful places in Switzerland. Sachseln nestles charmingly on the south-eastern shore of Lake Sarnen. Lake Lucerne and Lake Brienz are only a stone's throw away.
You can marvel at the
geographical centre of Switzerland on the Älggialp
. A stone wall, in the shape of Switzerland, stretches around a pyramid marking this special point - at least almost. The fact that the actual centre point is a few hundred metres away on a steep face does not make this place any less special. The Älggialp is definitely worth a visit!
No matter whether you prefer the small, fine or the luxurious, sophisticated variant: at Hotelcard you will find a favourite accommodation for every taste.
Treat yourself to a
relaxing short trip
that won't strain your wallet either. Experience the special corners of Switzerland and enjoy a little time out from everyday life!
Bookable since yesterday: Cresta Palace Hotel
Brand new you can book the
4* Superior Hotel Cresta Palace
in Celerina with your Hotelcard
up to 50% cheaper
. We look forward to telling you more about this bijou soon!
Become a member now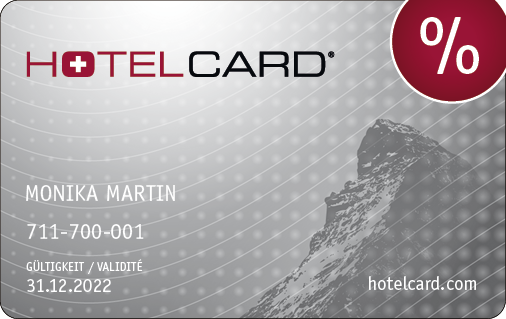 Hotelcard has been promoting the Swiss hotel industry for 10 years: While participating partner hotels increase their occupancy rates during off-peak periods, Hotelcard members benefit from exclusive rates. Simple and original, a win-win model for everyone.
What our members say
Discover new places far away from mass tourism
"Since I own a Hotelcard, we go on excursions much more often again and treat ourselves to the small luxury of an overnight stay in a hotel. Switzerland has so many exciting corners and with Hotelcard, we are always discovering new destinations far away from mass tourism."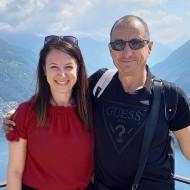 Sandra & Giuseppe
star_rate
star_rate
star_rate
star_rate
star_rate
A great thing for hotels
"As a hotelier, I appreciate the model. Unlike other booking portals, Hotelcard does not take commission on bookings. Hotelcard members are welcome guests at our hotel and are a real asset, especially in the low season"
Martin
star_rate
star_rate
star_rate
star_rate
star_rate
Share your best Hotelcard moments with us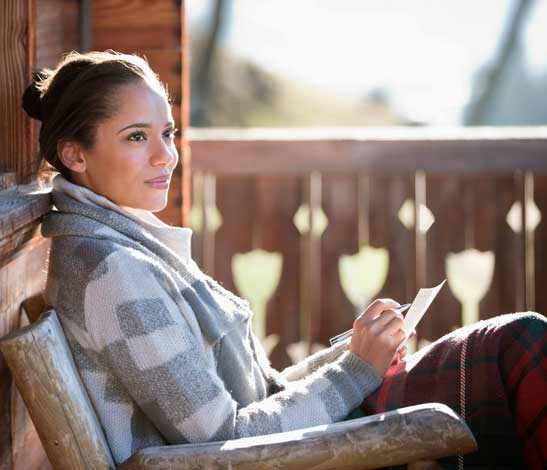 Share your experiences with our Hotelcard community so that other members can benefit from your travel stories and experiences with Hotelcard. Simply tag your posts on Instagram with hashtags #myhotelcard. We look forward to your contributions!