3 alpine villages of Graubünden
12.08.2021
Settle in, shift down a gear and relax.
Really "patschifig"
- as the locals of Graubünden call it. That's exactly what today's newsletter is about. There is no better place to relax than in a rustic, small alpine village in Graubünden. A place where time doesn't only stand still during holiday season and where the hens can still be seen laying their eggs.
Aline Niggli, our marketing assistant and Grisonian, will introduce you today to her
3 favourite mountain villages
in the land of Gian & Giachen, with matching Hotelcard accommodation, of course, so you can get it patschifig when you book.
© Matthias Nutt Photography
Soglio in Bergell
The mountain village of Soglio sits enthroned on a mountain terrace in the very south of Graubünden, in Bergell, as an idyllic postcard scene. It really does seem as if time stood still up there, which is one of the reasons why the painter Giovanni Segantini is said to have referred to Soglio as
"the threshold to paradise"
.
Back to the past
I can not decide whether the
historic mansions, the winding alleyways or the magnificent view
are what makes Soglio so captivating. Yet one thing is certain: Soglio is a place you won't be forgetting any time soon. A lot of history which will truly inspire you.
Embark on a journey into the past and immerse yourself in the history of Soglio. In the Gassa d'la Streccia, one of the village's oldest alleys, you get a very special glimpse at the former life in Soglio. Elena and Ugo Giacometti have made it their goal to restore buildings, most likely dating back to the 17th century, and turn them into a museum. The
museum la Streccia
will bring you and the locals in touch with the former way of life.
Some original furniture and everyday objects are displayed; there are guided tours every Monday.
© Bregaglia Engadin Turismo
Hotel Palazzo Salis
In order to experience former days up close, an overnight stay at the
Hotel Palazzo Salis
is a must. This
historic hotel was built in the 17th century
and its original features have been preserved ever since. All 16 rooms are mostly furnished with antique pieces of furniture; there is no TV or phone in any of the rooms. Truly authentic! Magnificent halls and an exotic garden with redwood trees add up to this unforgettable experience.
St. Antönien in Prättigau
Perhaps the best description of St. Antönien would be "Behind the moon, on the left". This village of 360 inhabitants is
nestled in an impressive mountainscape featuring green slopes and imposing chalk cliffs
, aloof from noise, hustle and bustle and stress.
St. Antönien was the first village in Switzerland to be designated a mountaineering village in June 2021. This is mainly a result of the careful handling of its natural surroundings, the attractive range of mountain sports on offer and its links to local supplies of food. It is even more relevant now: "Quality instead of quantity, and enjoyment instead of hustle and bustle".
A paradise for those who love sports
St. Antönien will make the hearts of hikers, climbers and bikers beat faster.
Numerous hikes set off from the village and take you up surrounding peaks
and even across the border into Austria's Montafon region. A visit to the Carschina SAC hut should not be missed. This mountain hut can be reached within 2 hours' hike from the village and will enthral you with its breathtaking alpine panorama. There are also several via ferratas and climbing gardens for you to climb high up in.
More activities
.
A jump into the crystal-clear Partnunsee lake will be a great way to cool down after a strenuous day on the mountain. This idyllic location will surely enchant you. On your way back, I would suggest grabbing a scooter and taking a pleasant ride back down to the village.
Partnunsee near St. Antönien © Graubünden Ferien
Hotel Rhätia
Hotel Rhätia
is located in the centre of the village. It is the oldest guesthouse in St. Antönien. An abundance of natural wood guarantees
the character and atmosphere of this old guesthouse remain intact
. You will be delighted with Prättigau specialities in the panoramic dining
room or on the sun terrace. Beds are made from natural wood as well, and ensure you will sleep tight "just like the Murmelis [marmots]".
Ftan in Engadin
Ftan is known as
"The Sun Terrace in the Lower Engadine"
. The view from there is unique - of Tarasp Castle, the surrounding hamlets and the Engadine Dolomites.
Tradiziuns - traditions and customs
Ftan is home to many traditions and rituals. I would like to introduce you to a particular yet amusing tradition, the
"Chalandamarz" (the beginning of March in Rhaeto-Romanic)
. Most people know this practice as a way to cast out the winter and evil spirits. It is also in the well-known story of Schellen-Ursli, which, by the way, was partly filmed nearby. In Ftan, schoolboys chase schoolgirls while carrying a foul-smelling, inflated pig's bladder. According to locals, this ritual is meant to bring fertility. Not only is there a lot of sunshine in the area, but also a lot of imagination...
Apart from the tradiziuns of the Ftan people,
this region boasts wonderful excursions
, such as the
Alp Laret
, which is famous for its fine Kaiserschmarrn [pancakes], or the "
Muglin da Ftan"
, the Alpine mill of Ftan. This 400-year-old mill reveals how important agriculture was and still is. You can visit two original mills that are still in service.
© Dominik Täuber Scuol
Hotel Engiadina
Folk evenings with country music and delicious local dishes prepared according to grandmother's recipes
are what give
Hotel Engiadina
its country house charm. Coupled with a warm hospitality, this hotel is the perfect place to get to know and love Ftan. All rooms are furnished in the traditional pine wood style.
For those who want to explore the surroundings, we recommend renting e-bikes. The Lai Padnal bathing lake can be reached by foot in 10 minutes.
Despite the fact that these mountain villages are quite small, their
unique histories, stunning landscapes and extraordinary charm
cannot fail to impress. "Ün bel di amo e fin bainbod" in Rhaeto-Romanic or "En hübscha Tag und bis bald" in Prättigau German. These are my farewell words and I hope to welcome you soon in the beautiful Grisons.
Become a member now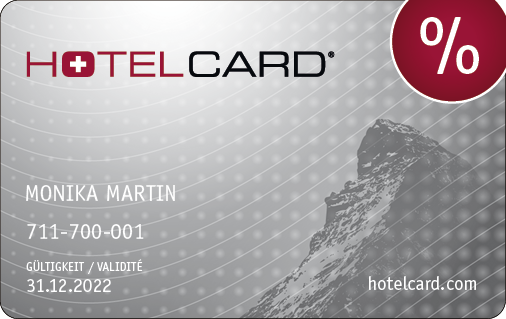 Hotelcard has been promoting the Swiss hotel industry for 10 years: While participating partner hotels increase their occupancy rates during off-peak periods, Hotelcard members benefit from exclusive rates. Simple and original, a win-win model for everyone.
What our members say
Discover new places far away from mass tourism
"Since I own a Hotelcard, we go on excursions much more often again and treat ourselves to the small luxury of an overnight stay in a hotel. Switzerland has so many exciting corners and with Hotelcard, we are always discovering new destinations far away from mass tourism."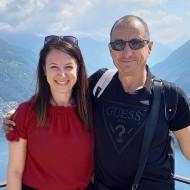 Sandra & Giuseppe
star_rate
star_rate
star_rate
star_rate
star_rate
A great thing for hotels
"As a hotelier, I appreciate the model. Unlike other booking portals, Hotelcard does not take commission on bookings. Hotelcard members are welcome guests at our hotel and are a real asset, especially in the low season"
Martin
star_rate
star_rate
star_rate
star_rate
star_rate
Share your best Hotelcard moments with us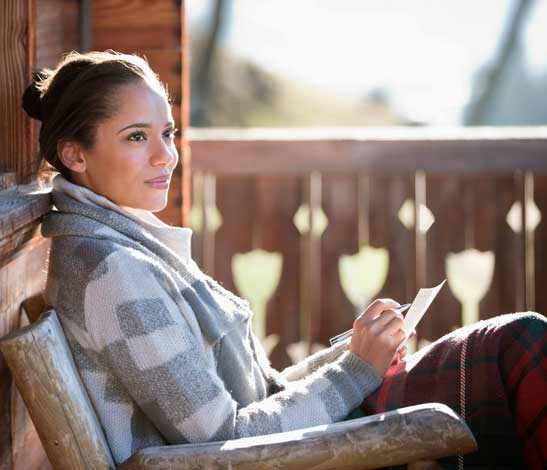 Share your experiences with our Hotelcard community so that other members can benefit from your travel stories and experiences with Hotelcard. Simply tag your posts on Instagram with hashtags #myhotelcard. We look forward to your contributions!