Wellness & Winter Hiking
28.01.2021
Short breaks in one of our selected
wellness hotels are balm for body, mind and soul
. Here you can switch off and recharge your batteries. Carefully devised safety concepts ensure that you can fully relax even in these stormy times. "Keep your distance and get some distance" is the motto. Treat yourself to some time off and benefit from our exclusive discovery prices.
Save up to 50% on the regular hotel price.
Let yourself be whisked away to a world of well-being where you and your health are the centre of attention.
Hotel Zur Goldenen Rose Karthaus, Schnals, South Tyrol
The stylish
4* star Hotel Zur Goldenen Rose Karthaus
shines with
spectacular views and a feel-good ambience
. The modern interior with soft earth tones and natural materials creates an unagitated and noble atmosphere. Typical South Tyrolean specialities made from regional organic products await you in the restaurant.
The hotel belongs to the circle of "Small Luxury Hotels of the World". Nestled between larch forests and glaciers, the Hotel zur Goldenen Rose with its spacious
open-air spa area
is the perfect place to relax and recharge your batteries.
Our tip
Numerous winter hiking trails invite you to actively discover the
fairytale-like Schnals Valley
, with or without snowshoes. A sunny valley with wide, snow-covered meadows and forests awaits you. Century-old farms, mighty glaciers and steep mountain slopes and a soothing tranquillity characterise the originality of this sparsely populated area.
© Martin Rattini
Kurhaus Hotel Cademario & Spa, Cademario, Ticino
Tasteful rooms and suites with views of Lake Lugano or the garden invite you to stay and be at the
4* Kurhaus Cademario Hotel & Spa
. The
DOT.Spa forms the centre of the house
. Here you will find peace and time for yourself. Whether in the brine contrast bath, in the adventure pools (indoors and outdoors), in the spacious sauna world or in the modern fitness area - in the 2,200 m² spa area, you and your well-being take centre stage.
Enjoy the time for yourself and take a deep breath with the
fantastic view of Lake Lugano
and the mountains of Malcantone. This is a wonderful place to recharge your batteries. This hotel can be booked directly without prior request via our website www.hotelcard.ch.
Our recommendation
A hike through the chestnut groves in Malcantone is a special experience
not only in summer but also in winter. Small villages, where time seems to have stood still, nestle against the mountain flanks. Chestnut and birch forests characterise nature and enchant with their very own charm.
Cademario © Enrico Boggia
Hotel zur alten Gasse, Bellwald, Valais
The cosy
3* Superior Hotel zur alten Gasse
is known far beyond the borders of Bellwald, not least because of its gourmet restaurant,
which boasts 14 Gault-Millau points
. The hotel is in a fantastic location in the upper part of Bellwald, directly on the ski slope. It offers breathtaking views of the valley and the Valais Alps.
Guests of the Hotel zur alten Gasse have access to the spa, fitness, wellness and pool of the new hotel The Onya Resort & Spa. Here, no less than 300 m² are dedicated solely to well-being. An oasis awaits you in the midst of the spectacular mountain world. The wellness area shines with a good mix of
luxurious charm and alpine elegance
.
Our tip
72 km of prepared winter hiking trails invite you to enjoy the peace and quiet of winter in the Aletsch Arena. Here you can take a deep breath and let go of everyday life. The
panorama of the Valais four-thousand-metre peaks
and the large Altesch glacier is breathtaking. A sight not to be missed!
© Aletsch Arena - Christian Pfammatter
Treat yourself to some fine time out and recharge your batteries in the wellness oases where everything revolves around your personal well-being. Your body and mind will thank you.
Enjoy the time for yourself – or for relaxed togetherness.
Benefit from exclusive discovery prices thanks to your Hotelcard and escape the hustle and bustle and uncertainty of everyday life to then get back to work with fresh energy.
Fantastic wellness oases await you!
PS: By the way, Valentine's Day is on 14.02. A little time out with wellness is always a good idea!
Become a member now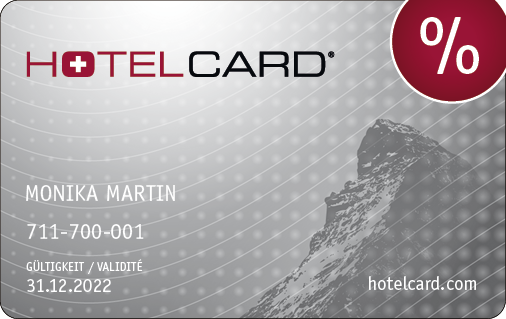 Hotelcard has been promoting the Swiss hotel industry for 10 years: While participating partner hotels increase their occupancy rates during off-peak periods, Hotelcard members benefit from exclusive rates. Simple and original, a win-win model for everyone.
What our members say
Discover new places far away from mass tourism
"Since I own a Hotelcard, we go on excursions much more often again and treat ourselves to the small luxury of an overnight stay in a hotel. Switzerland has so many exciting corners and with Hotelcard, we are always discovering new destinations far away from mass tourism."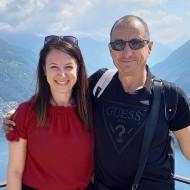 Sandra & Giuseppe
star_rate
star_rate
star_rate
star_rate
star_rate
A great thing for hotels
"As a hotelier, I appreciate the model. Unlike other booking portals, Hotelcard does not take commission on bookings. Hotelcard members are welcome guests at our hotel and are a real asset, especially in the low season"
Martin
star_rate
star_rate
star_rate
star_rate
star_rate
Share your best Hotelcard moments with us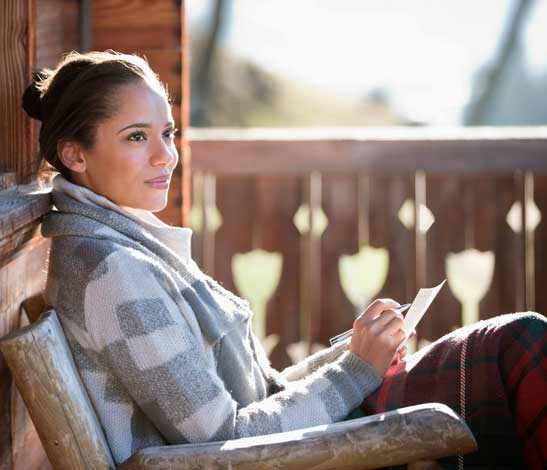 Share your experiences with our Hotelcard community so that other members can benefit from your travel stories and experiences with Hotelcard. Simply tag your posts on Instagram with hashtags #myhotelcard. We look forward to your contributions!