One of the best Swiss hotels opens for the winter season
The 5* Tschuggen Grand Hotel is situated in a spectacular alpine location in Arosa at 1,800 m above sea level. With the hotel's own mountain railway, you can reach the fantastic skiing and hiking area in just a few minutes.
After a strenuous day, you can relax in the fantastic spa. Star architect Mario Botta has created an oasis of well-being and inner peace on an area of 5'000m² and 4 floors.
The cuisine in the luxury hotel is also excellent, in several restaurants you will find everything from cheese fondue to gourmet menus. The rooms are completely renovated and will enchant you. The Tschuggen Grand Hotel fulfils all your wishes and does everything for a very special stay in a very special hotel.
Arosa and Lenzerheide are a true snow sports paradise with countless hiking trails, cross-country ski runs and 225 kilometres of ski slopes. Arosa offers you bear-strong possibilities to arrange your holidays.
Speaking of strong bears, since August 2018 Arosa has had a 2.8 ha large bear country with the bears Amelia and Meimo. The animals were rescued from bad keeping conditions. A great experience for young and old!
Book now
Become a member now
Hotelcard has been promoting the Swiss hotel industry for 10 years: While participating partner hotels increase their occupancy rates during off-peak periods, Hotelcard members benefit from exclusive rates. Simple and original, a win-win model for everyone.
What our members say
"The mountains are our favourite destination. Switzerland has so many beautiful places to go and, thanks to Hotelcard, we can explore them at a discount."
Oli Steffen
"I celebrated my 70th birthday with my husband in a pretty, charming hotel on Lake Constance thanks to the Hotelcard - a dream came true! For retired people like us Hotelcard is great hit."
Verena Tanner
Join the community full of travel experiences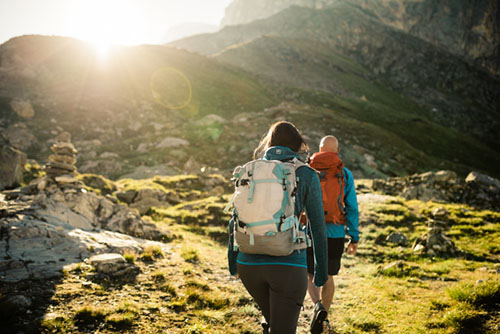 © Switzerland Tourism/Ivo Scholz
Share your best memories
At Hotelcard we want to know all about the great places to visit in Switzerland. Our members contiuously contribute with their stories and experiences. Send us your suggestions too! You can also post your experience on Instagram to #heimatlaune or #hotelcard.