© Fribourg Region
At a glance
Largest city: Fribourg (38'000 inhabitants)
Specialties: Fribourg fondue (moitiè-moitié), Gruyère cheesecake, Soupe du Chalet, Cuchaule (saffron bread)
UNESCO World Heritage: -
Hotel industry: 101 hotels (1'923 rooms)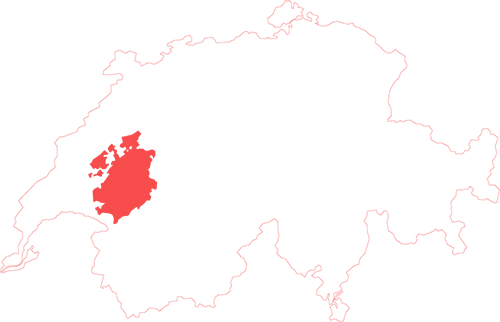 The bilingual tourist region of Fribourg stretches between Berne and Lakes Geneva and Neuchâtel. This versatile region has everything to make the holiday heart beat faster: Mountains, lakes, idyllic villages and landscapes and with Fribourg an exciting city.

The Frib&nbsp...
regions.region_hotels.read_more
The bilingual tourist region of Fribourg stretches between Berne and Lakes Geneva and Neuchâtel. This versatile region has everything to make the holiday heart beat faster: Mountains, lakes, idyllic villages and landscapes and with Fribourg an exciting city.

The Fribourg region is one of the smaller tourist regions in Switzerland. In the large regions such as Graubünden, Zurich, Bern or Valais, there are more than 10 times as many overnight stays. But this is exactly what makes Fribourg so attractive. The region is not overcrowded and you can find peace and relaxation. Here you will find some of the best hotels in Switzerland.

14 bridges in the city of Fribourg
The heart of the region is the city of Fribourg with its almost 40'000 inhabitants. The bilingual town is famous for its 14 bridges crossing the Saane. The oldest dates back to 1250.

Bilingual canton
Fribourg is one of the three Swiss cantons, along with Berne and Valais, where both French and German are officially spoken. In the Fribourg region, around two thirds of the inhabitants speak French. German is spoken mainly in the districts of Sense, See and Saane.

World record for language in Jaun
A linguistic peculiarity is the village of Jaun, where the Yaoundé-German is spoken. According to some linguists, this is not simply a Swiss German dialect, but can even be called the fifth language of Switzerland. This language, which belongs to the highest Stalemanian, sets the world record for the most vowels: Jaunerian has 23 vowels, plus 10 diphthongs (sounds like ai, ei or au.
regions.region_hotels.read_less
Become a member now
HotelCard has been promoting the Swiss hotel industry for 10 years: While participating partner hotels increase their occupancy rates during off-peak periods, HotelCard members benefit from exclusive rates. Simple and original, a win-win model for everyone.
Fribourg region in summer
© Schwarzsee Tourismus
Schwarzsee

The Schwarzsee, situated in the Senseland, in French Lac Noir, with its maximum depth of only 10 metres, is ideal for swimming. It lies idyllically embedded at 1,046 metres above sea level in the Fribourg Prealps. In Gypsera there is a lido with wooden loungers for the adults and a playground for the children. You can rent pedalos and stand-up paddles. There is another lido in Staldenmotta. The peculiarity of the lake is that its waters have a positive effect on health thanks to the high sulphur content. The Schwarzsee is not only a popular destination for swimming. Its surroundings are a real paradise for hikers: For example, there is a four-kilometre-long hiking trail around the lake.
Place: Schwarzsee
More information
FFThe Funiculaire

It is the last water ballast railway in Switzerland. No motor drives the funicular, but sewage from the upper town. The funicular climbs more than 50 metres in altitude and is only 120 metres long. The crunching and clattering of the hundred-year-old green railway is worth the trip. Would you like to get to know the city of Freiburg better and have lots of fun doing so? Then take a game of city golf in the old town.
Place: Fribourg
More information
© Pierre Cuony Photographies
© Christof Sonderegger
Bike tour along the Röstigraben

Fribourgerland is part of the Pre-Alps and is therefore characterised by a hilly, but not too mountainous landscape: the ideal conditions for extensive cycling tours. A particularly beautiful one leads from Romont to Laupen. The approximately 5-hour bike tour is 63 km long and, in addition to Romont itself, leads through three other medieval towns: Montagny, Avenches and Murten. The Romont-Laupen cycle tour takes you along the Röstigraben: five times on this tour you change language regions. On the last third of the tour you can take a break at Lake Murten or Lake Schiffenen.
Place: Romont FR
More information
Fribourg region in winter
Les Bains de la Gruyère

In the wellness oasis "Les Bains de la Gruyère" you can relax from everyday life in the warm water, which is rich in minerals and has a temperature of up to 34 degrees. Installed whirlpools, underwater jets and showers provide variety. The wellness temple also offers saunas, Turkish baths, massages and relaxation rooms. All this takes place against a breathtaking backdrop: The mountains of the Gruyère region are always in view when you take a bath in "Les Bains de la Gruyère".
Place: Charmey (Gruyère)
More information
Old town of Bulle

With a population of about 23,000, Bulle is the second largest city in the Friborg region. The small town is worth a visit because of its historic old town. Bulle is also home to interesting museums: we particularly recommend the 2012 permanent exhibition "La Gruyère, Paths and Traces" in the Musée Gruérien. But also the surroundings of Bulle, located at the southern end of Lake Gruyère, have a lot to offer. The small town of Gruyères and the Moléson, a popular mountain for excursions, are not far away. In winter, two events stand out: the Christmas market and the Bulle carnival.
Place: Bulle
More information
© La Gruyère Tourisme
© Marc-André Marmillod
Skiing in the Fribourg Region

Can you really ski in the Fribourg region? Yes, you can, even if Fribourg is not the first thing that comes to mind when it comes to winter sports. Nevertheless, there are more than 10 ski resorts in the region. The biggest are Charmey and Moléson. In both ski areas, 30 kilometres of pistes await the visitor. Five ski lifts each take winter sports enthusiasts up the mountain. The two ski areas are manageable in size, but very family-friendly.
Place: various
More information
Places in the Fribourg Region
© La Gruyère Tourisme
Gruyere (La Gruyère)

Thanks to its cheese, Gruyères (La Gruyère) is known far beyond the city and national borders. But a visit, whether in summer or winter, is also worthwhile in other respects. A stroll through the alleys of the medieval town or a visit to the Gruyère Castle are a must. You should also not miss a visit to the HR Giger Museum. The famous Swiss artist once achieved world fame thanks to his sculptures: Giger even received an Oscar for his visual effects in the film "Alien". And if it is to be cheese after all: At the show dairy "La Maison du Gruyère", located at the foot of the castle hill, you can learn everything about the production of the famous cheese.
Romont

The historical old town of Romont is partly situated on a hill and is very worth seeing. Romont was founded as a town at the beginning of the 13th century, after a castle had been built on the site in the 12th century. In Romont, besides the castle, there are many other 'witnesses of history' to visit: the collegiate church Notre-Dame de l'Assomption, La Fille-Dieu (a Cistercian abbey) or the former Capuchin monastery.
© Romont
© La Gruyère Tourisme
Charmey

Also in the Gruyère region is the municipality of Charmey with its 2,000 inhabitants. Charmey is a good starting point for extended hikes such as the Vounetz, where a cable car also goes up. A highlight is a visit to the old smithy of La Tzintre, where you can experience at first hand what life was like in this region more than 100 years ago. The smithy stands there unchanged and is therefore an excellent contemporary witness to life at the end of the 19th century.
What our members say
Discover new places far away from mass tourism
"Since I own a HotelCard, we go on excursions much more often again and treat ourselves to the small luxury of an overnight stay in a hotel. Switzerland has so many exciting corners and with HotelCard, we are always discovering new destinations far away from mass tourism."

Sandra & Giuseppe
member since 2020
A great thing for hotels
"As a hotelier, I appreciate the model. Unlike other booking portals, HotelCard does not take commission on bookings. HotelCard members are welcome guests at our hotel and are a real asset, especially in the low season"

Very good newsletter - always eagerly awaited!
"HotelCard does a great job in communicating the great hotel offers. I always eagerly await the newsletter and read it with great pleasure. In these pandemic times, discovering all that Switzerland has to offer has become a real passion for me. I really appreciate the inspiration for special hotels and unique destinations from HotelCard."
Eric Haldimann
member since 2020
Win-win situation for all involved
"I would like to thank the whole HotelCard team for their great commitment. In the meantime, our children no longer live at home and we use the HotelCard offer very often for short holidays. A great thing and I think it really is a win-win situation for everyone. Thank you very much and have fun and success searching and finding nice partner hotels. See you in the next inspiring newsletter."
Siegmund Ksiazek-Stadtbäumer
member since 2011
Already saved over 2,000 CHF - it couldn't be better.
"We have been very satisfied with HotelCard for more than 3 years. We have been able to save over 2,000 CHF so far - it couldn't be better. We are really fans and have often recommended HotelCard to others."
Ruedi Kündig
member since 2017
Share your best HotelCard moments with us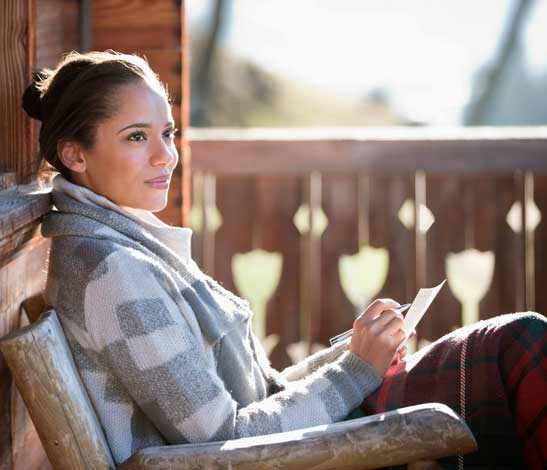 Share your experiences with our HotelCard community so that other members can benefit from your travel stories and experiences with HotelCard. Simply tag your posts on Instagram with hashtags #myhotelcard. We look forward to your contributions!